Rahul Dravid was Indian captain during that series.
Rahul Dravid must be the only person who can challenge MS Dhoni for the calmest cricketer in Indian cricket. Both of these cricketers can create a template on on-field and off field behavior for young cricketers to follow.
However, Rahul Dravid's wife Vijeeta Dravid shared a not-before-shared instance where Rahul Dravid almost transformed into Hulk, and almost destroyed the dressing room.
The instance comes from England' tour of India in 2006 and occasion was the 3rdand final Test at Mumbai. The game was brilliantly poised as India led the series 1-0 and a win here would have given them series 2-0.
India were set a target of 313 to win in the 4th innings, on the last day and at 75/3, situation required some good batting from stalwarts Sachin Tendulkar and Rahul Dravid at the crease. Chasing on a fifth day wicket at Mumbai was never easy and England only had Shaun Udal and Monty Panesar in their ranks to take advantage of that.
English captain Andrew Flintoff knew he needed to get either of Tendulkar or Dravid out. He started the proceedings himself and on the third ball, got Dravid to knick one behind the stumps to Geraint Jones.
Dravid's dismissal proved to be the death knell for Indian team as Shaun Udal picked 5 wickets to run through the Indian batting line up and India folded up for 100 and lost the match.
Few months earlier, this same Indian batting lineup had not only saved, but won the match against Pakistan from a similar situation and Tendulkar and Dravid were the heroes for India and the pain of not doing so again was too much for Dravid this time.
He was so angry at himself, that he threw a chair in the dressing room in disgust and angst.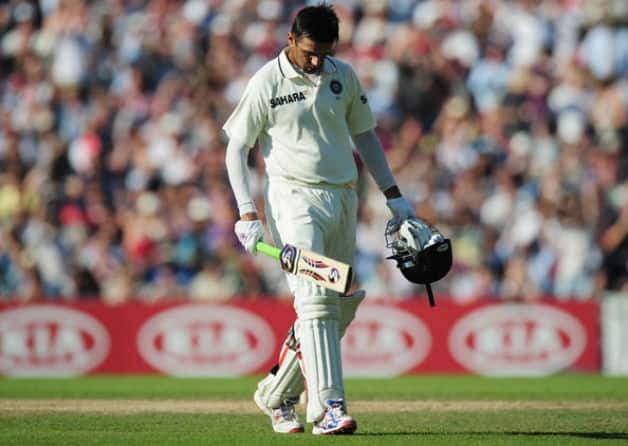 Dravid's wife explained the situation while speaking to espncricinfo.com.
"He has dealt with all that goes on in cricket because he can separate the game and the rest of his life and put things in perspective. No matter what was happening in his cricket, at home he is husband, father, family man. He has never said, "Oh I've had a bad day." He wouldn't speak about his work unless asked. Other than dropped catches.
"Only once, I remember, he returned from a Test and said, "I got a bit angry today. I lost my temper. Shouldn't have done that." He wouldn't say more. Many months later, Viru [Sehwag] told me that he'd actually thrown a chair after a defeat to England in Mumbai.
"He'd thrown the chair, Viru said, not because the team had lost but because they had lost very badly," she wrote.