World Junior Chess Championship is seeing another budding Grand Master from India. India's 12-year-old R Praggnanandhaa who is currently holding the 6th spot in the tournament, is going great with score of 5.5/7 after completing 7 rounds. The Championship which is taking place in Tarvisio, Italy is lead by Aryan Tari from Norway, with a score of 6.0/7.
The Norwegian is emerging as a clear leader of the tournament from the first match itself. Among Tari's successive competitors is India's Praggnanandhaa who is one of the nine players waiting for their chance to bring him down.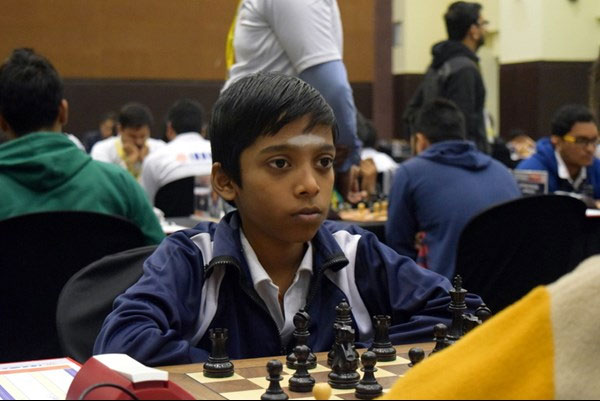 Last year, the 12-year-old wonder became the youngest International Master in the history of chess at the age of 10 years, 10 months and 19 days.
And his ongoing performance shows his potential to pick up another world record – the record to become the youngest Grand Master. The World Junior Championship entertain entries below 20 years old and of course, little Praggnanandhaa is much younger than most of his opponents.
However, no one can question his skills as he is certainly giving a tough competition to every opponent. The first three rounds went amazing for World Youth Champion as he won 2 out of first 3 matches and ended the third with a draw.
Trending Now
Ashes fans set to watch the live action in Gabba's pitch side swimming pool
His fourth round was against 18-year-old Jorden van Foreest, who has a lot more experience than the Indian youngster, taking everyone by surprise he outplayed him in a breathtaking knockout. His journey continued with another victory over his nation mate SL Narayan, and subsequently satisfied for a draw in next two games.
Showing maturity and patience like legendary Vishwanathan Anand, Praggnanandhaa gave a tough competition to Chinese Grand Master Xu Xiangyu but the match ended with a draw. The seventh round saw something much more surprising, as it happens, Praggnanandhaa had good winning chances against Grand Master Kirill Alekseenko however, towards the end of the game he decided to repeat the position and draw.
He might have done this to keep his composure but had Praggnanandhaa won this game, he would have been in the joint lead with Tari.
India's wonderboy will next face Grand Master Awonder Liang of the US who is one position down of him. The tournament still has much left for the wonderboy to do some magic, now it will be exciting watching what he has planned for the upcoming 5 rounds.
Till then, take a look at the current standings of the tournament.