Indian athletes are on a pace in making the nation proud in various Sports events. Going out from the Mainstream, Imphal East district's Mirabai Chanu became the first ever Indian in past two decades to clinch a gold medal at the World Weightlifting Championships in Anaheim, USA.
The event hosted a few countries and other strong Women Weightlifting nations such as Russia, China, Kazakhstan, Ukraine, and Azerbaijan couldn't compete due to their history of doping at previous Olympic Games.
A Strong Message from the Top Sport Personalities Sania, Mithali, and P. Gopichand in Global Entrepreneurship Summit 2017
India's Chanu clinched the Top Most Honor in the women's 48kg category after lifting 85kg in snatch and 109kg in clean & jerk reaching an impressive total of 194kg. Thailand's Sukcharoen Thunya won the silver medal for a lift of 193 kg and Segura Ana Iris bagged the bronze with 182kg.
lang="in" dir="ltr">IWF WWC 2017 Women's 48kg:

🥇 Chanu Mirabai 🇮🇳 | 194
🥈 Thunya Sukcharoen 🇹🇭 | 193
🥉 Ana Segura 🇨🇴 | 182#2017iwfwwc pic.twitter.com/soupO70zyI— IWF (@iwfnet) November 30, 2017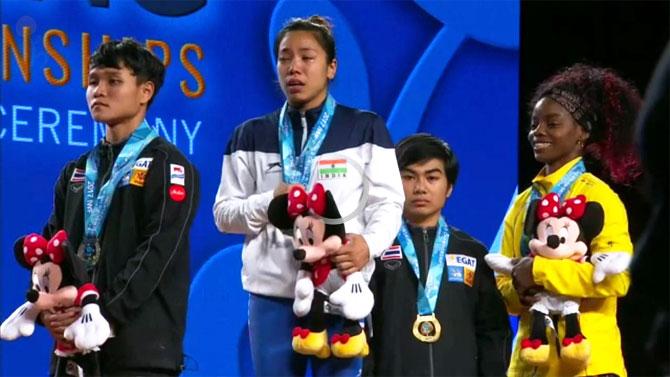 Tears rolled down her eyes when she was honored with the Gold medal as this came after her disastrous loss in the Rio Olympics last year. In the Women's 48kg event at the Rio Olympics, she could not get an overall total and failed miserably to lift the weight in total 3 attempts.
She was sadly one of two lifters who did not finish (DNF) her event. However, this victory is a great comeback by the Indian wrestler and will certainly be a great motivational booster for her upcoming events.