Modern cricket includes many glamorous elements, from Cheerleaders to after parties, cricket has surpassed from being just a game. Now, the championship tournaments are celebrated like a festival. Meanwhile, a sparky thing that caught our sight on the cricket ground.
If you have been watching the T20 matches or ODI matches on television you might have noticed the stumps lighting up each time the ball crashes against it or the wicketkeeper whips the bails off. That's because the LED technology is a new innovation in cricket.
LED stumps is a piece of innovation from Bronte EcKermann. He usually restricts players to uproot the stumps after the match as they are very costly but consider MS Dhoni as his exception.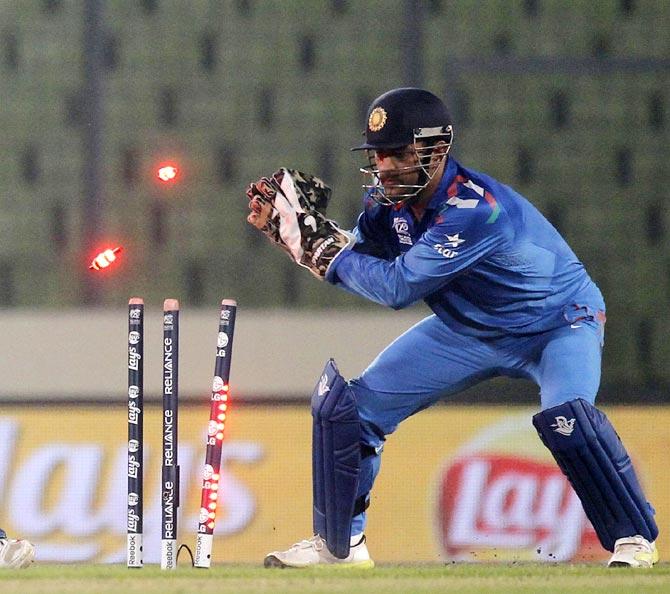 Midst of 2014 ICC World Twenty20, EcKermann told that he would not mind giving MS Dhoni as a souvenir one of his stumps if India wins the then ongoing ICC tournament.
Featured: 5 Players who were expeditious in attaining their 12th ODI Century
'Well, this is a very costly system. The entire set-up during a match costs US$ 40,000 (Rs 25 lakh approx), so I don't allow the players to uproot it during any celebrations. But I know Dhoni loves keeping a souvenir stump. If India can win the final, I might get into some arrangement with Dhoni,' EcKermann said.
LED stumps and bails certainly enhance the viewer experience getting them more involved and even gives a wider perspective to the umpire to take a fair decision. However, a real cricket fan must know ten things about the LED stumps and Bails:
1. Creators
The idea of LED stumps and bails was originally conceived by an Australian mechanical industrial designer, Bronte Eckermann. These LED stumps and bails are created by South Australian manufacturer Zing International. It is called the Zing Wicket System.
2. Debut 
The debut match played using these stumps and bails was a club game in Adelaide.  Later, Cricket Australia chose to use it instead of the conventional stumps for night matches, subsequently decided to use them in the 2012 edition of the Big Bash League in Australia.