Wicket-Keepers form the base of a cricket Team. We could see many examples, in most of the teams, the prominent Wicket Keepers could turn to the Captain of their Team. One of the reason is because of their skill to judge and respond quickly to the situations.
Many Legends are born with gloves in their hand. It's hard to get the combination of good wicket-keeping skills and strong batting skills, whereas people like Dhoni, Gilchrist has proved they got it in them. Recently, in the match against South Africa Indian Former Skipper MS Dhoni got his 400th Dismissal  after dismissing South African skipper Aiden Markram in the 3rd ODI in Cape Town.
This made us to list out the Top 5 Wicket Keepers with the maximum number of dismissals in ODI Cricket along with one of their masterpiece dismissal. Know it's hard to find one among the many, So let's relive the best moment, when we think of these legendary Wicket Keepers.
Kumar Sangakkara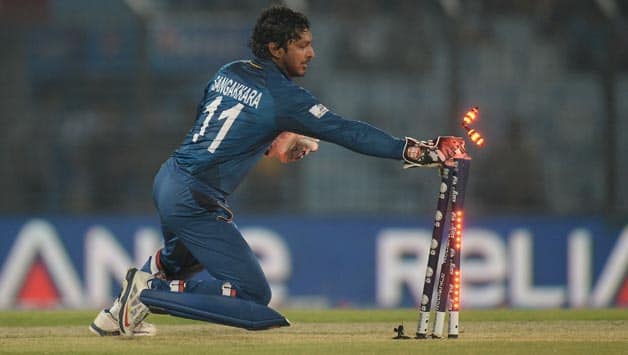 'Legend' is the term which is often misused in Cricket many times. But, we should never call him with any other name. The Man with a wonderful career span of 15 years. The Sensation of the World Cricket behind and in front of the wickets. You could see how the Sri Lankan Team is struggling when the Sangakkara era came to an end. Sangakkara tops the List with maximum number of dismissals as wicket keeper in ODIs.
Matches: 404
Span: 2000-2015
Dismissals: 482 (383 catches, 99 stumpings) 
Watch one of the best moment from Sangakkara's life behind the wickets.