Have you ever seen a nail-biting cricket match? Well, if you love cricket, then you might just not have watched one but many such cricket matches. Be it an international match or any premier league cricket, the thrill, the excitement is same in every single game.
In today's post, we have brought one such match to you, this nail-biting encounter between India and Zimbabwe from 1997 had a simply crazy ending. An ending which none of you could expect, even guess won't work. Let's read as I tell you what happened and how it happened that gave this match an insane ending. Also, you will get to watch the highlights of the adrenaline pumping match in the video embedded below.
When a Nail Biting Match gets a Crazy End
It was the Standard Bank International One-Day Tri-Series between India, Zimbabwe, and South Africa. No one would have expected that the 3rd match of the Tri-series between India and Zimbabwe could be such an electrifying encounter.
IPL Tops in the 5 Business Deals that changed the face of Indian Sports
South Africa was leading the series by then beating India and Zimbabwe individually in the first two matches and the third match between was an opportunity to get a good lead.
Toss
The coin rolled in Zimbabwe's favor and they elected to bat first. What seemed like a good batting pitch actually turned out to be one.
Zimbabwean Innings
The Indian bowling found it difficult to hinder the Zimbabwean batting on that batting-friendly pitch. Opener G Flower gave a good start to their innings but the other end couldn't hold firm and they lost their first two wickets pretty early. The next batsman Paul Strang formed a good partnership with Flower and continued it with the next batsman and skipper of Zimbabwean side, Alistair Campbell.
Featured: 7 Unheard Stories from the Indian Cricket Dressing Room
Campbell added a good 61 runs to the board and ended up as Javagal Srinath's only wicket in that match.  India, on the other hand, were expected to chase the total of 236 runs quite confidently. However, things didn't go as planned.
India to Chase 237 runs from 50 overs
With a strong build side including some big names viz Sachin Tendulkar, Sourav Ganguly, Azharuddin, Dravid, but the Indian side collapsed against  Zimbabwe.
But as they say, playing in South Africa is always a big challenge for the Indian team. Tendulkar who was the skipper in the Tri-Series gave away his wicket early in the game. The next player to take the crease was surprisingly the right arm pacer J Srinath who held the crease with Sourav Ganguly.
Dada scored a comfortable 38 runs before giving him wicket to Craig Evans. The stream of losing wicket continued with Sachin and Ajay Jadeja's dismissal, the talented Indian all-rounder held his grounds firmly to take his team out of a critical situation. What started with an easy win, seemed like a shameful defeat for India before Robin Singh put forth a sensational show.
Reasons explained why MS Dhoni chose not to wear The Indian Flag on his helmet
He quickly escalated India's run-rate, hit 2 sixes and 2 fours to drag his side somewhere around the target. It was undeniably a thrilling game for all the spectators which none of them had expected. The most unusual incident happened in the final over of the match which shaped the ending into a crazy climax.
The Crazy Climax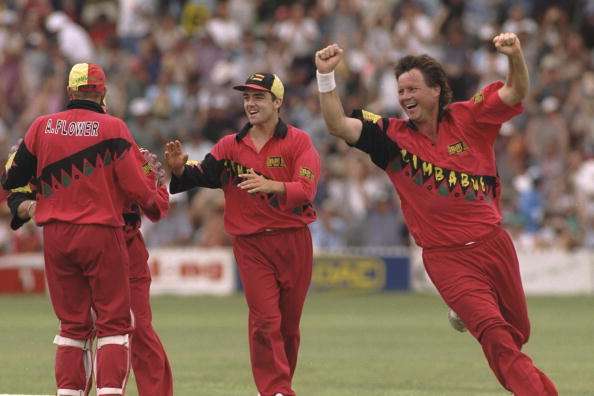 The match was already a nail-biting encounter as it entered into the final over of the match. The situation was anyhow bad for India as they needed 8 off the final 5 balls and it got worse with pacer Salil Ankola's run-out. Now India needed to get 8 off the final. Watch it out yourself, the fun and tension is all yours!
As you might have seen in the video, taking an early start cost India a victory. Although the match tied, they could have won it pretty easily by getting the final run on the last ball if not have lost their final wicket with a run-out.