The 11th season of the Indian Premier League has kicked off on an exciting note. Nearly, every match that has been played in this season was a thriller. Last ball decisions and excellent performances by the teams, if there is something else that grabs our eyeballs during the match, that is the FANS.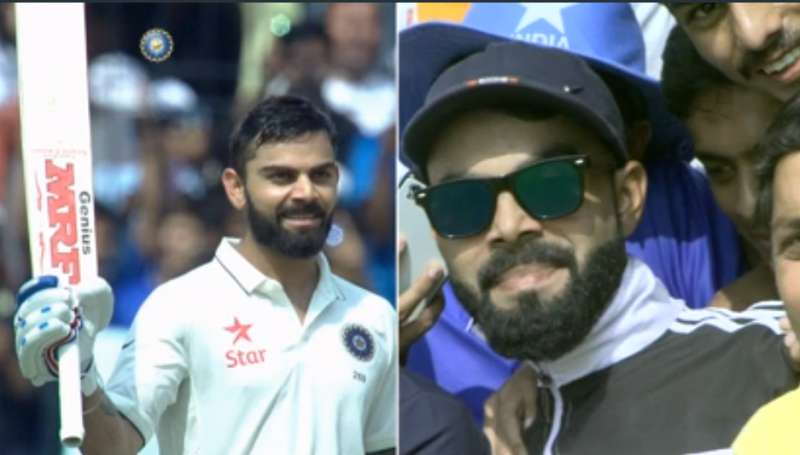 Not just usual fans who wear jerseys of their favorite team or bring posters of some cricketing slangs but fans who decorate themselves in the color of their favorite IPL team or fans who dress up as their favorite cricketer and grabs all the attention in the stands.
In this post, we have brought 4 superfans of the Indian Premier League, who define fandom anew. After reading this post, make sure you spot them in the stadium stands during an IPL match:
1. Prince Badonia
The whole stadium was surprised to see this fan who resembles the Indian skipper Virat Kohli appeared in the third Test between India and New Zealand at Indore.
Even Virat was in awe when he first saw his doppelganger fan sitting in the stands during a game. Also, the cameraman was stuck to the fan named Prince Badonia who impressed everyone in the stands and on the field with his Kohli like look, especially the beard.
Virat is a trendsetter as his hairstyle and beard style is followed by millions but this fan has something else. So, next time, an IPL match is taking place in Indore then make sure you look for in the stand for this crazy Virat fan.
2. Shankar Geetha
Shankar Geetha or should we say, Shankar Dhawan, as says this guy's Instagram account. Dhawan's admirer Shankar has made many appearances in the cricket ground in India's matches and was everytime captured by the camera because of his look. The guy looks exactly similar to the fierce Indian opener. The face look, the mustache, the hair or no hair, exactly what Dhawan has.
Just the body structure is bit different, rest he is an exact copy of Dhawan. So, next time you are watching an Ipl match of Sunrisers Hyderabad, make sure you see it closely as this guy could be in the stands impressing all the beautiful ladies. *winks*
3. Sudhir Kumar Chaudhary
I have not seen a more crazy fan than this guy in my life. Meet Sudhir Kumar Chaudhary, though this guy doesn't need any introduction. Sachin Tendulkar's biggest admirer who was present in nearly all of his matches, cheering from the stands for his "God".
The painted fan is not only loved by Master Blaster but is the favorite person for the camera. A match in which Sachin is present is incomplete without Sudhir's presence.
Started his journey by following cricket and majorly Sachin, this guy is now nation's favorite fan and it's all because of his sacrifices and struggle that he went through to follow his idol. He has also been part of quite a few TV commercials, he has garnered national respect because of crazy addiction of Sachin and of course, BCCI has sponsored him a ticket to all the home ground matches.
Sudhir has also been in the IPL matches supporting Mumbai Indians, so be quick to spot him during IPL matches this year.
4. N Sarvanan
After Dhoni, it's for MS Dhoni. One of the biggest fans of Chennai Super Kings skipper MS Dhoni is a regular player in CSK home ground matches. But, presently CSK matches are shifted to Pune so there are a few chances for us to see this guy but it was a delight to see him celebrating on CSK's win.
Fixing Allegations on CSK-KKR Match! Responses from Quora Users raise Eyebrows
This fan named N Saravanan has his upper body painted with Dhoni written in bolds. Seeing his dedication to the team, the CSK management offered to give him free tickets but he refused to accept them. Instead, he stands 12-hours in a long line to buy them with yellow colour proudly painted on his body.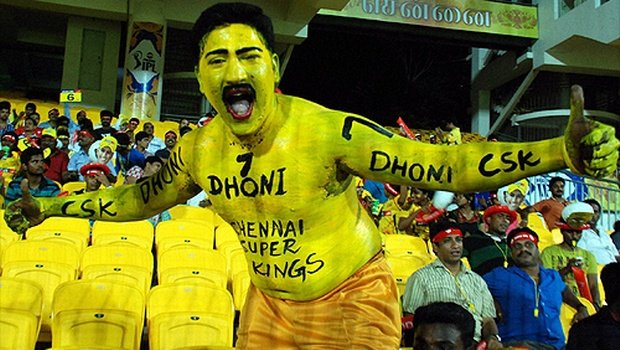 This was our list of some crazy cricket fans, so next time make sure to keep an eye on the audience closely as you can see any of them cheering for their favorite players.